Reverse Falls: The Game is a visual novel, point and click, and puzzle by the Giddy Fresh Team. You can find the game on GameJolt, so far, it only has one chapter (Chapter 0) released, but more are planned for the future. To keep up with the games development, you can follow their GameJolt page and get notified of DevLogs, or follow the official Reverse Falls Tumblr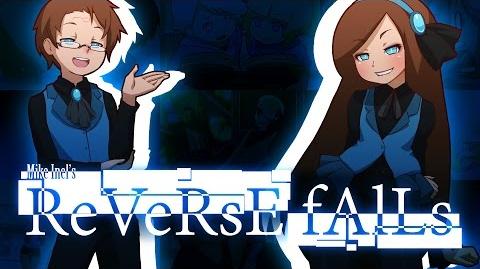 The idea for Reverse Falls: The Game came from an April Fools trailer
by Mike Inel. The trailer showed the characters that appeared in the game. A game dev team formed by Redditors and fans that saw the trailer, the Giddy Fresh Team, picked up the game and starting developing a visual novel inspired by the trailer. A demo was released which got over 1000+ downloads. Chapter 0 was then released December 17th, 2017.
The game is currently able to be played on Windows, Mac, and Linux systems.
The game's demo got a Android port.
The first demo, made by Helvest, was made in 14 days.
The game runs in Unity
The Gamejolt page was first published on April 13th, 2017
According to one of the Devs on Discord, the game is 20% done and theyre currently drafting chapters and such and finishing up chapter 1.